The protein revolution is here – made from thin air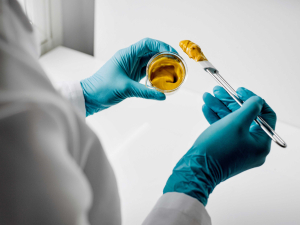 At Nordic Food Industry, Petri Tervasmäki, Head of Bioprocess at Solar Foods, will take the stage to talk about Solein® – a protein made from thin air. Petri and his colleagues have begun the journey of separating protein production from agriculture. It is a new and revolutionised form of production enabling a more sustainable food industry. 
– Our idea is based on disconnecting food production from agriculture. And we do this by taking a microbe, which you can find in nature, and growing it through fermentation. It's a bioprocess and the equipment resembles the big fermentation tanks that you would see in a brewery. You can think of the microbe as a plant, but instead of using arable land, water and fertilisers, we feed the microbe with air and electricity to make it grow, says Petri.
At Nordic Food Industry, Petri will talk about Solar Foods' journey from start-up to scale-up and what it means to develop an industrial production that's never been done before.
Scaling up in a completely new territory
Currently, Solar Foods has a pilot factory on a smaller scale but is constructing a bigger demonstration factory in Finland as well.
– As the facility is being built we are now going deeper into the engineering phases. After that we will be continuing to plant commissioning, which we are working together with GEA for. In a year's time we will begin operations, says Petri.
GEA supplies Solar Foods with process equipment and engineering around production.
– It's very exciting to follow Solar Foods on this journey. This product has great potential and it's interesting to see the process evolve. We have a lot of experience in the food industry and are able to offer that expertise to Solar Foods. But there are challenges in scaling up, especially within a type of production that's never been carried out before. When scaling up a production like this we have to work a lot on making sure the product tastes and feels the same, as well as maintaining its quality, says Daniel Frosterud, Head of Sales in Sweden and Finland at GEA.
Engineering for future food
Within new food development Solar Foods' demo plant is one of the larger investments right now. It is setting the tone for the future of sustainable food production.
– The factory we are building now is revolutionary. We will have the entire production under one roof which has never been done before either. The bioreactor which is cultivating the microbe shares space with the other part of the processing, which is designed in a more traditional way. We want to show a new way of producing protein by using carbon dioxide and electricity as our main ingredients, Petri concludes.
Petri will appear on the Nordic Food Industry stage on Thursday 20 October. You can visit GEA on booth C03:22 at ProcessTeknik, which takes place alongside Nordic Food Industry.