Innovation in practice at Nordic Food Industry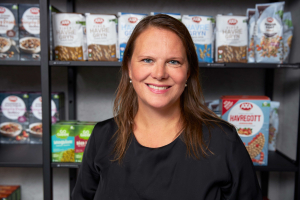 The word innovation is a hot topic in the entire food industry. But it is only when you make innovation a reality that it fulfils its purpose. Maja Påhlman is head of Innovation and Insights at Lantmännen and will hold the seminar Innovation in practice at Nordic Food Industry.
During the second day of this year's Nordic Food Industry, breakfast seminars are held, and first up is Daniel Richardsson from RISE who gives an inspirational lecture on innovation and innovation management. Daniel's lecture is followed by Maja Påhlman from Lantmännen Cerealia who will talk about how innovation can be applied in real life.
– I will talk about what success factors and challenges exist when using your innovation in practice. Within the food industry, there is a great need for innovation, as well as great innovative power connected to health and sustainability, says Maja Påhlman.
Innovation is an incredibly hot topic in the industry, but from idea to realisation there are challenges that must be dealt with.
– There are several challenges to be able to start innovating more. I think it's easy to focus on what's big today instead of thinking about what's bigger tomorrow. If you have a short-term perspective, it is difficult with large movements. To work both on the short-term and long-term horizon, e.g. by dividing the teams and dedicating a team to long-term innovation is one way to solve this. Working with the consumer in focus to innovate from a real need is important, but also to start from one's own strength. Right now we are going through challenges in the industry with raw material and energy price increases, so innovation around local production and energy-efficient production is more and more relevant. Of course, we want to focus on refining raw materials to give back as much as possible to our owners / 19,000 Swedish farmers.
Collaboration to increase innovation
Innovation is about building competence in new areas, something that takes time. On the other hand, innovation is absolutely vital to support the ongoing development of a more sustainable food industry.
– It is very important to teach both large and small companies to innovate so that they do not get stuck where they are today. It is also about collaborating in the industry, between industry and academia. And even if a company has a lot of competence internally, it is important to remember that you can find external competence to support it.
During Maja's seminar, she will talk about how to start innovating more and what tools are required to get there.
– I hope that those who listen will be inspired to act and feel motivated to work with innovation. It is incredibly important to cooperate and listen to each other. Everyone wants to move in the same direction. Towards more sustainable and healthy food, Maja concludes.