Pressrelease: Premiere edition for Nordic Food Industry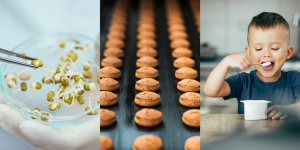 From 18 to 20 October, Nordic Food Industry made its debut at the Swedish Exhibition & Congress Centre. In collaboration with Research Institutes of Sweden (RISE), the technology-focused start-up's stage was filled with many exciting items aimed at the food industry.
Nordic Food Industry is a brand new meeting place for the food and food processing industry. Its aim is to strengthen Swedish competitiveness by highlighting the ideas, solutions and technologies that exist to enable efficient and sustainable production.
"Our ambition is to create a meeting place that will help Sweden's many, and valuable, food entrepreneurs to increase their competitiveness. There is a huge innovation and export potential in Sweden that we want to boost. By joining forces within the industry, we can jointly meet the challenges we face and increase the level of innovation and technology in the Swedish food industry," said Anki Fagerström, Business Manager for Nordic Food Industry.
On stage, Carl Eckerdal, Chief Economist at the Swedish Food Industry Federation, spoke about a sustainable food industry at a time of crisis and war.
"We are currently in a cost and demand crisis. It is difficult as a food producer in the current situation to work with high labour and production costs. There is no room to produce goods at low cost. Yet at the same time, there is a focus on consumers. After the good years we have seen in Sweden, this will be a cold shower. As a producer, you have to solve the riddle of how you win buyers over to your side. In order to create long-term opportunities to remain in business, it is therefore important to find ideas and equipment that will make your production more efficient. That's where meeting places like Nordic Food Industry are very useful," Carl Eckerdal said.
Among the exhibitors at Nordic Food Industry was Atlas Copco Compressor:
"We really missed trade fairs during the pandemic, and we think this event provides a great opportunity to come here and showcase our products. We see this as a continuation of our good sales work. My experience here at Nordic Food Industry is a good one. It is well organised, and the feedback is always courteous and quick. It seems that this is long-awaited in many quarters, so it's great to be seen in this setting once again," said Niclas Caldegren, Business Development Engineer at Atlas Copco Compressor.
Swedish Technology Prize
Two other events, ProcessTeknik and Scanautomatic, took place alongside Nordic Food Industry. The Swedish Technology Prize was awarded during the last two days of the event. This year it included nominees from all three fairs! The prize, which recognises innovation in industry, is divided into two parts – one awarded by the jury, and one awarded by visitors to the fairs.
Schneider Electric wins the Swedish Technology Prize jury award
Schneider Electric was named the 2022 winner of the Swedish Technology Prize jury award for its digital platform EcoStruxure.
"This win is very exciting for us, partly to draw attention to this new technology, but also because it provides proof that Schneider Electric is at the forefront of software platforms. Openness is an important quality, and we see the need for the whole of industry to start working more like this. That's why this is great," said Daniel Ljungqvist, Sales Manager at Schneider Electric.
Novotek winner of the visitors' prize
Novotek won the 2022 Swedish Technology Prize Visitors' Award. Visitors nominated the company for its Intelligence Hub software solution.
"Novotek stands for new technology and the award shows that we are doing the right things, that we have succeeded in bringing new technology to industry. It takes innovation to be part of the future and this award is proof that we are doing it," said Thomas Lundqvist, Sales Manager at Novotek.
Heidenhain and Atlas Copco Compressor were also awarded honourable mentions by the jury for their innovative solutions.
ITF Automation Prize
Yrgo was named as winner of the ITF Automation Prize 2022. The ITF awards an annual automation prize to recognise individuals and entities who can serve as role models and sources of inspiration for others working in the field and who contribute to strengthening the international competitiveness of Swedish-based industry.
ITF's motives
As one of Sweden's widest range of polytechnic courses, Yrgo trains around 2,000 people per year. Students are admitted on "learning at work" (lärande i arbete – LIA) through partnerships with companies and organisations that participate in the programme's management team. Through periods of LIA, Yrgo creates opportunities for students to enter professional life more easily after their studies. Yrgo contributes expertise to industry, with great commitment.
"We are very surprised, but this award means a lot to us. At Yrgo we have enjoyed a close and high-quality cooperation with companies that appreciate our work. We are proud and happy to win the ITF Automation Award," said Riaz Abrahem, automation teacher at Yrgo.
Automation Student
The Automation Student competition highlights innovative and well-executed degree projects in the field of automation. The award has been presented since 2010 by Automation Region, the Swedish Exhibition & Congress Centre and the industry association Svensk Automation. This year's prize went to Sofie Nilsson and Anna Bengtsson from the Mechanical Engineering programme at Lund University of Technology. In their thesis, they investigated how wireless control can be improved by modifying the control algorithm and basing the communication of control and measurement signals on events instead of fixed time intervals.
"It feels great to win this award and it's a great way to finish our studies. So in that way it's fantastic. To get an award for doing a good and relevant job for industry means a lot. We hope that our work can be of use to industry and that people will be willing to invest in this area," Sofie Nilsson said.
---
Facts about Scanautomatic, ProcessTeknik and Nordic Food Industry
Participation and involvement in the fairs was both high and highly gratifying. Participants could take part in 110 exciting and educational programme items presented on three stages, and they could visit 276 unique exhibitors on the exhibition floor. A total of 12,060 people attended this year's Scanautomatic, ProcessTeknik and Nordic Food Industry.